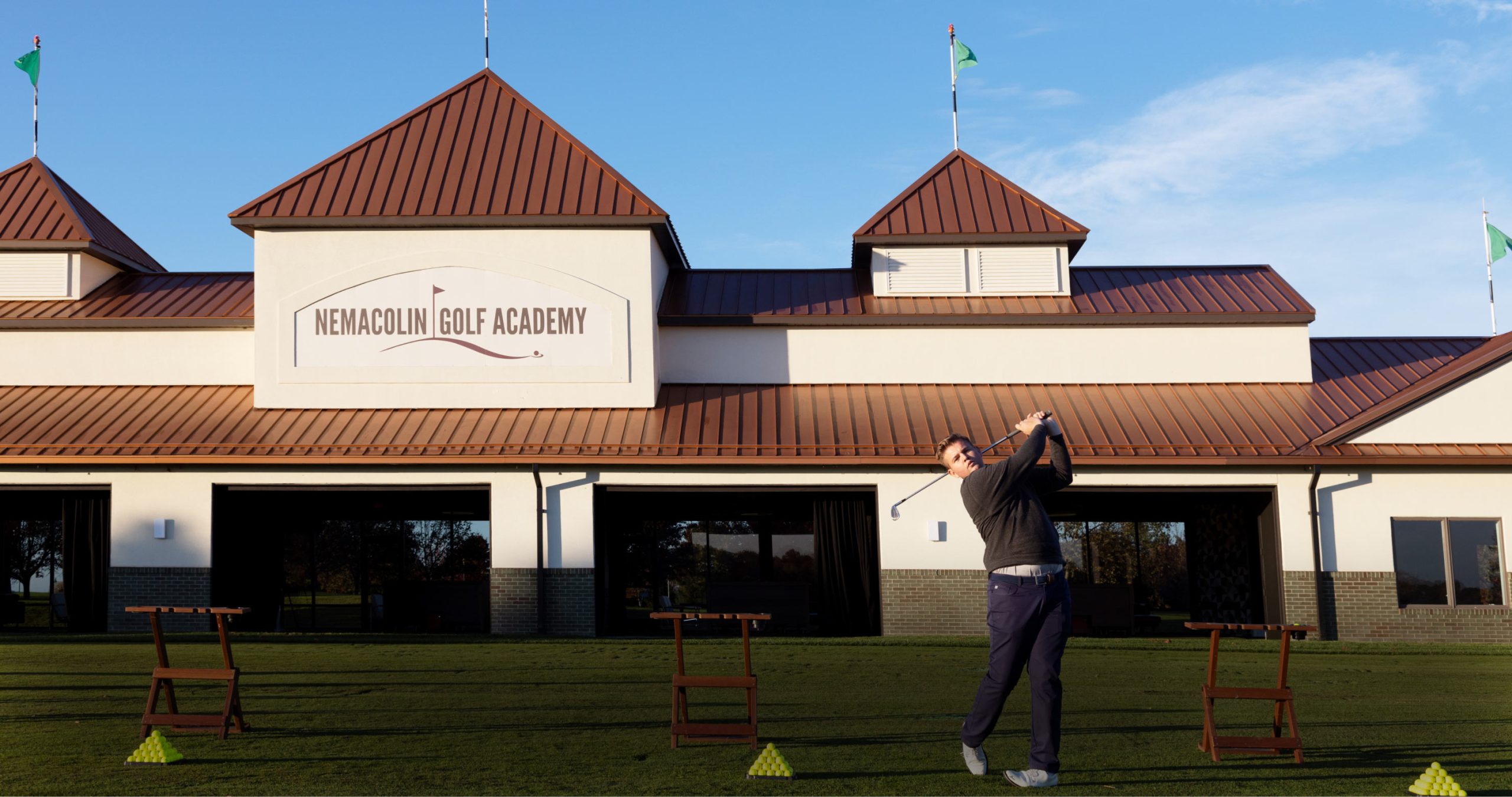 Golf Academy
Hone your game with expert instructors, club-fitting specialists, and state-of-the-art athletic technology.
Perfect Your Swing
Nemacolin's Golf Academy is one of the most innovative training and practice facilities in the country. Our talented instructors, club-fitting specialists, and ingenious athletic technology works together to improve every aspect of your game.

Everyone has the potential to play their best golf ever. At the Golf Academy, swing, confidence, and shot consistency will see improvement. Every golfer is unique, so customized evaluations, instruction, and practice pans will help to result in a better golf game. Every golfer is unique, so customized evaluations, instruction, and practice plans will help to result in a better golf game. With four specialized bays, space to accommodate dining and private groups of 60, upscale and modern decor with leather seating and walls of windows, some of the most advanced technology in the industry, and a team that can deliver magic for every golfer, the new and upscale Golf Academy at Nemacolin is the place to bring your game to a whole new level.
Instruction and club fittings offered year-round;
Schools and clinics available April-October

Individual, private, and group instruction

Performance programs, including high-performance junior camps and college prep

Tournament coaching & mental game improvement

Golf schools for all play levels and ages, including half-day, multi-day, new golfer bootcamps

Customizable clinics and instruction

Corporate clinics and custom club fittings

TrackMan bay reservations:
$50 per person, per hour

Open to overnight guests, golf members, and all-access members

Dress code: Proper casual golf attire is requested; soft spikes only, please. Denim is discouraged on the courses and in the Golf Academy, but non-distressed denim is acceptable elsewhere around the resort.
Academy Highlights
TrackMan® Simulators
TrackMan's simulator bays deliver an experience that redefines the possibilities of a simulated environment. World-famous courses appear in stunning detail, and you can pick from over 140 courses to play. Coming soon—Nemacolin's two championship courses: Mystic Rock and Shepherd's Rock—will be yours to master with technology or with tradition.
TrackMan® Range
TrackMan at the Golf Academy creates games that make you better and give you practice feedback and purpose. Don't have time to play a round on the traditional course? Play a full round of golf right from your range tee. Games located within the complimentary TrackMan app allow you to have fun, be competitive, and improve your shot-making performance variables. Play alone, in a group, or invite the golfer next to you for a fun challenge.
TrackMan® Analysis
Golf is about consistency, and the TrackMan Radar Launch Monitor provides Nemacolin's professional golf instructors with a state-of-the-art diagnostic tool to measure everything about your swing and the flight of your golf ball. Work with our staff to gain an additional 20 to 25 yards distance with the same club head speed.
Swing Catalyst Balance & Dual Force Plates
Employing the latest technology, our PGA instructors use the Swing Catalyst to analyze your swing and deliver results. The golf swing is measured by using perfectly synchronized, high-speed video cameras and launch monitor data; studying details and patterns within the Dual Force Plate's 3D horizontal, vertical force, and foot-pressure measurements; and analyzing generated torque and ground-reaction forces. With this data in-hand, our world-class PGA instructors can determine swing faults faster, decrease shot dispersions, and increase distances for every golfer's game.
Foresight GCQuad Launch Monitor
Forsight Sports GCQuad launch monitor uses infrared object tracking and a high-speed, high-resolution camera-based technology to precisely measure every aspect of club head and ball launch performance. By capturing thousands of images per second, building a virtual 3D model, and then analyzing a multitude of data components, our PGA professionals are able to use the GCQuad to create the most accurate and complete picture of your ball and club head performance, delivering real results in nearly real time.
Club Fitting
Properly fit golf clubs are crucial to playing your best golf possible. We create a unique experience for every guest using innovative technology such as TrackMan Launch Monitor to help you find the best golf clubs for you.