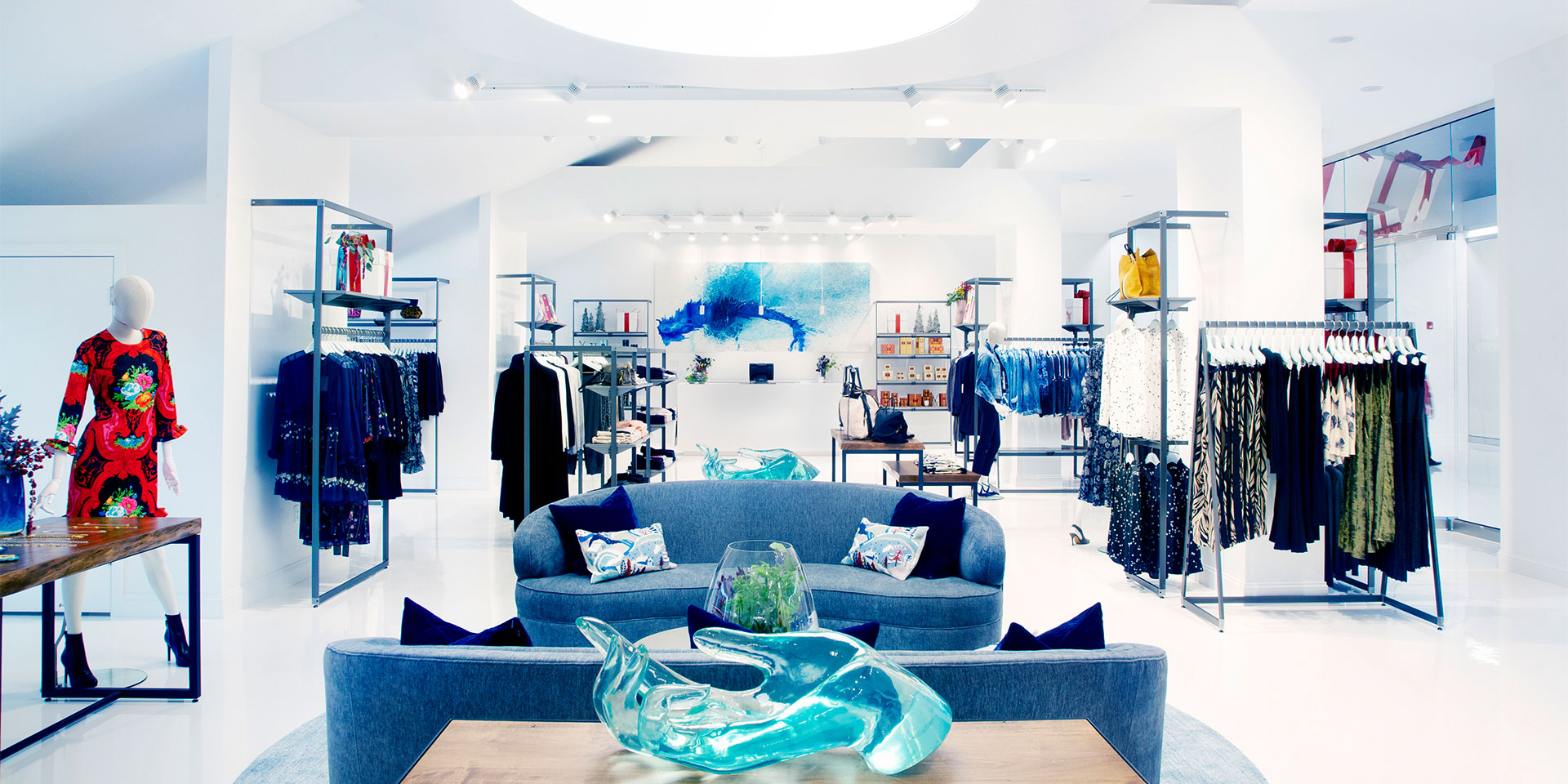 Shopping
Explore our range of shops and take a piece of Nemacolin home with you. Retail shopping is available to overnight guests, resort members, and all-access members. The general public is welcome to enjoy the Nemacolin outlet beside the Lady Luck casino, the boutique at Wooflands Pet Resort & Spa, and the pro shop at The Nemacolin Field Club.
The Nemacolin Outlet & Wooflands Pet Boutique, located on Route 40, are open to the public

Rod & Range Pro Shop, on Pike School Road is open to the public

Other retail options are open to overnight guests and members
Laurel Lane Shops
With a fresh and modern feel, the Laurel Lane Shops offer luxury womenswear from world-renowned designers, such as Trina Turk, Scotch & Soda, Smythe, Anatomie, EPC Style, Halle Bob, and more. The menswear collection features favorites including Peter Millar, Robert Graham, and Greyson, and introduces new styles by Scotch & Soda, DL1961, Julie Vos, and Faherty. In addition, the Laurel Lane Shops have men's and women's logo gear, jewelry, unique candles from Baobab, and a whole store for the kids, too! The Laurel Lane Shops are located one floor up from PJ's Ice Cream Parlor, accessible by the staircase or elevator.
The Chateau Signature Shop
Explore upscale women's fashions and accessories, unisex logo apparel, drinkware, and novelties at The Chateau Signature Shop. If you're looking for items with Nemacolin or our whimsical Pearl, you'll find t-shirts, hoodies, jackets, drinkware, and Nemacolin ornaments in the logo shop. There's even Pearl as a snuggly stuffed animal! You'll delight in women's apparel from Samuel Dong, Joseph Ribkoff, J'envie, with accessories and gifts from such brands as Brighton.
Golf Shop
Find all that you need to bring your game to the next level with clubs, balls, hats, shoes, and logo apparel from brands such as Peter Millar, Johnnie-O, Travis Mathews, Footjoy, EPC Style, Turtleson, Galvin Green, Belyn Key, IBKUL, GGBlue, and much more. Additionally, our team can assist with your general or custom clubs from Titlelist, TaylorMade, Callaway, and Mizuno. Located in the Falling Rock hotel, the Nemacolin Golf Shop serves both Mystic Rock and Shepherd's Rock golf courses.
Rod & Range Pro Shop
The Pro Shop at the Rod & Range Club offers all you need for your next adventure. We're an Orvis-endorsed guide lodge where you'll find rods, reels, waders, tackle, fishing apparel for any kind of weather, and Orvis gear. You'll also find Oakley sunglasses and apparel; a full selection of logo gear from Level One, including jackets, puffy vests, shirts, mugs, and hats; outdoor apparel; Beretta sporting accessories, and more. Shuttle service to and from the Rod & Range Club is available from the resort, and this facility is open to the general public.
The Cigar Shop
Select cigars to enjoy in The Hardy Room or to take with you from this shop's offering of world-class, brand name selection. Located in The Chateau.
Hardy & Hayes Jewelry
Hardy & Hayes Jewelry is closed for the reimagination of The Chateau and will reopen in the summer of 2024. Glitter and glow with a trinket or two from Hardy & Hayes, a fine jewelry store located in The Chateau. With new pieces arriving weekly, there is an everchanging assortment of sparkle from which to find delight.
Spa Boutique
Keep glowing, even after you've left the spa. The Spa Boutique offers everything from athletic wear and swimwear to skincare, health, and beauty products. Purchase your favorite oils and lotions used during your treatments at the Woodlands Spa and Salon, offering Natura Bissé, FarmHouse Fresh, and Naturopathica. You'll also find hair care products from Eurfora and Schwarzkopf; a wealth of accessories; polishes from OPI; and the world's most desirable yoga brands such as Electric & Rose, Beyond Yoga, Vuori, and Varley. Everyone loves the uplifting and calming aroma of the Woodlands Spa—take home this customized scent in a room spray or exquisite candle.
Holistic Healing Shop
Find wellness at your fingertips. The Holistic Healing Shop is located within the Holistic Healing Center at Horizon Point. Featuring a highly curated collection of swimwear, journals, crystals, essential oils, Still Point Inducers, oils, and balms, every body can find something to support balance and well-being.
Wooflands Pet Boutique
You'll find toys, treats, leashes, collars, harnesses, grooming and pet supplies, and stylish fashions for your furry friends at the Wooflands Pet Boutique, located in Nemacolin's Wooflands Pet Resort & Spa, approximately one mile from Nemacolin's main entrance. Shuttle service to and from the Wooflands Pet Resort & Spa is available for overnight guests. Both the boutique and pet spa are also open to the general public.
Retail at The Peak
Shop for your outdoor adventure. Offering seasonal clothing and accessories, whether swimming or skiing, this shop has what you need: swimsuits, cover-ups, toys and goggles, hats, gloves, and socks to keep you warm from head to toe! You'll also find gear for fun-filled snow activities, such as helmets, ski goggles, snow pants, and jackets.
Nemacolin Shop
Bring the magic home with you by visiting our online logo shop.